W

e can help keep your loved one at home.

Most people want to stay at home, avoiding or delaying the need for nursing home or assisted living care.

Our adult day center helps adults with Alzheimer's and/or physical impairment achieve this goal.
Your Health and Safety is Our Priority
To help protect our participants, staff, and others, we have implemented policies and procedures specific to the COVID-19 Pandemic based on Vermont Department of Disabilities, Aging and Independent Living's Health Guidance for Adult Day Centers. Currently, only participants and staff may enter our building. Everyone must wear a mask, perform good hand hygiene, and be able to contain coughs and sneezes. We also encourage physical distancing.
If you have any questions about our operations, please call us at (802) 527-0548 or email us at info@carepartnersvt.org.
For over 25 years, CarePartners has provided a warm, stimulating and home-like place for frail adults to spend the day keeping them healthy and living in their own homes. 

Families and caregivers gain peace of mind knowing their loved one is safe, happy and being cared for, while they go to work, run errands or take a well-deserved break.
Hours and Transportation
Currently, participants may attend Monday through Friday from 8:30 am to 3:30 pm.  Transportation to and/or from our center may be available for people living in Franklin & northern Grand Isle Counties.  Administrative hours are Monday through Friday 8:00 am to 4:00 pm. 
Cost
Our hourly fee covers meals & snacks, personal care assistance, therapeutic activities, health monitoring services and much more.
Certification
Our adult day center is certified by the Vermont Department of Disabilities, Aging & Independent Living.
Testimonial
Being around other people is important to me and I didn't have that before.  Now I always have someone to talk to and help from caring staff. You have got to give CarePartners a chance! 
– Rose, participant
Testimonial
It's a big relief that my husband has Care Partners to go to for the day.  I know their staff will be monitoring his health and meeting his needs. He's very happy doing rewarding activities while socializing with friends.
– Jeannine, family member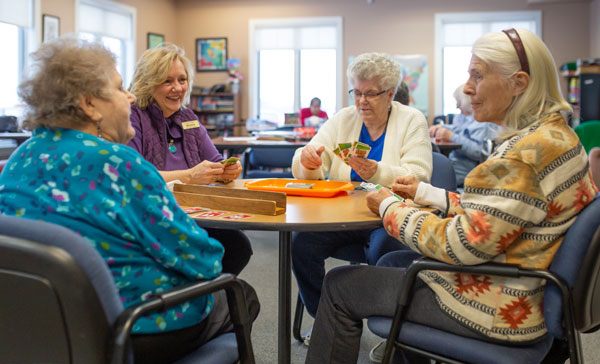 We are a team of skilled, caring professionals who are committed to enhancing the quality of your loved one's day. Staff include licensed nurses, nursing assistants, activities specialists and dedicated volunteers.
g
Call today to schedule a tour of our center and to learn how we can be a partner in caring for your loved one.

CarePartners is an equal opportunity provider and employer.